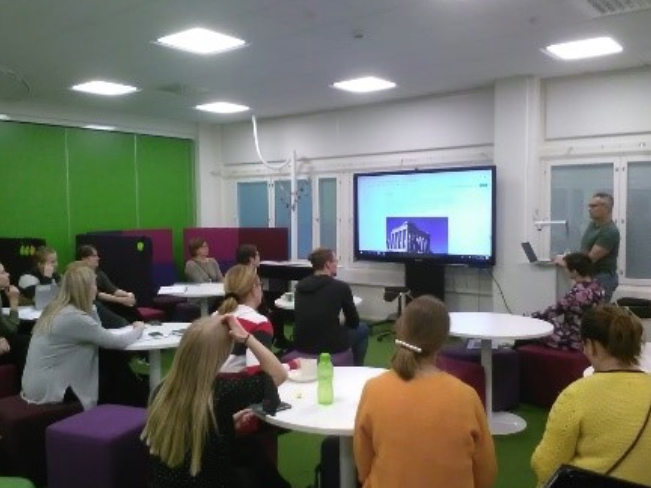 Topic(s) addressed
Learning together: co-teaching and cooperation between teachers from different grades.

Creativity: teachers gained new ideas on how to use art therapy, outdoor learning and mindfulness.
Target groups
Methodologies
Teachers learned and applied:
new techniques on how to use art therapy for the benefit of pupils with special needs. 

mindfulness techniques that can be used with pupils 

strengthened their language skills and enhanced their cultural competences

learned about outdoor learning

created a common blog to share experiences, materials and info

facilitated peer-learning activities
Environments
Cooperation between different grades and teachers at school.

The teachers extensively used outdoor learning, art therapy, cultural approaches and mindfulness. 

Discussions in class and meetings as a way to share experience and observations with students and teachers.

After completion of the project, teachers continued using various outdoor learning spaces in a more creative way.

A common blog as an innovative knowledge-sharing platform.
Teachers
Teachers created a common blog to get more publicity and to share experiences, knowledge and information about this project.

The project fostered cooperation and peer learning between teachers involved as it was carried out together with the KA1 team. 
Impact
Thanks to the project:
new skills and ideas were gained and implemented in the school's teaching programme, sharing knowledge and experiences and cooperation between grades and teachers was facilitated.

art therapy, mindfulness and outdoor learning became a more common part of a school day in all grades

new ways of teaching cultural approaches were developed and new language skills were gained 

teachers involved in the project delivered lessons about the topics of their course to pupils of all grades.

teachers involved in the project gave presentations to the other teachers to share knowledge, skills and ideas about their courses and KA1.

all materials, travel info and experiences were shared with the other schools and local communities via blog, Facebook and YouTube
Reference

2019-1-FI01-KA101-060394

Project locations
Project category

Primary education

Project year

2022
Stakeholders
Coordinators
Metsokankaan koulu (Metsokangas Comprehensive School)
Address
Future Learning Language School Limited
Address