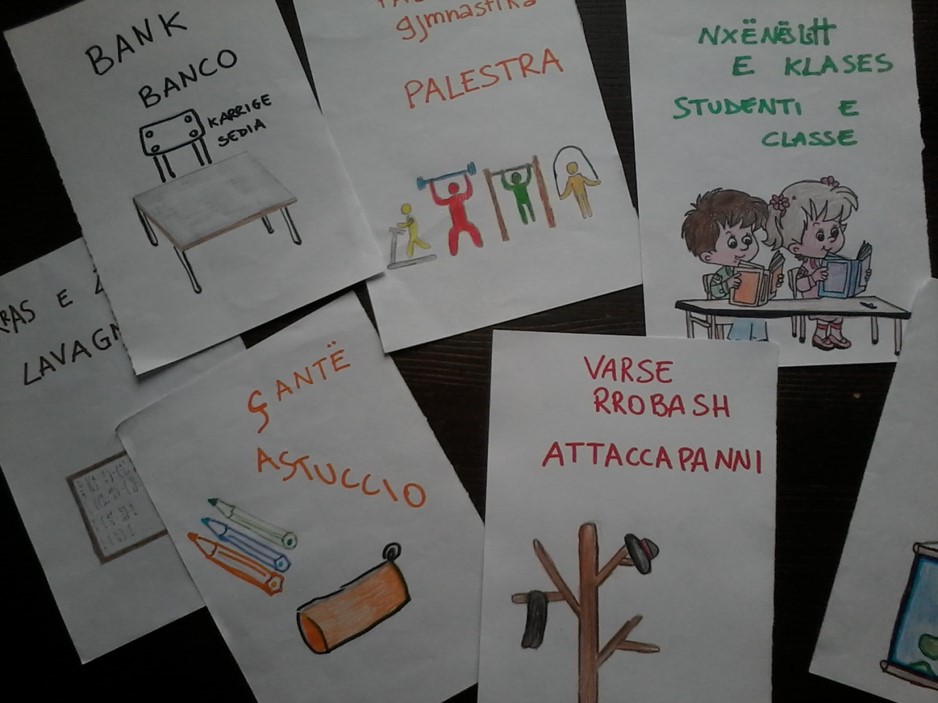 Topic(s) addressed
The project's main aim was to support students of Roma background and/or other minorities, support students with disabilities/special needs, and facilitate the integration of refugees. Other primary objectives were the inclusion of students with various issues into the school environment so as to allow them to achieve success and cultivate a sense of togetherness; improve poor school performance; and, teach students the value of respect. The aforementioned objectives were met by approaching students individually, and through the use of innovative methods such as cooperation between schools with parents and members of local communities. The project's annual priority was fulfilled through various activities that were held outside of the common school environment, for example during project days that involved local communities and distance learning initiatives that focused on the integration of students.  
Target groups
The project's target groups consisted of approximately 200 students from participating schools between the age of 11-19, of Bangladeshi, Roma, Somali, and refugee backgrounds. Other target group members included students with disabilities and learning difficulties, gifted and talented students, students with special needs, and approximately 80 students from disadvantaged backgrounds. The target audience also consisted of children from local kindergartens, teachers from participating schools, host families, and members of local communities.
Methodologies
Participating schools had to find ways to cope with mixed-ability teams and mixed-ability classes, with worksheets provided to students with learning difficulties so as to allow teachers to assist said students in improving their school performance, and to enable students to experience the feeling of success – an important element for their future wellbeing. Student participants prepared various activities for kindergarten children (who were also from disadvantaged backgrounds), with all activities developed in such a way so as to encompass various school subjects. Furthermore, students and children from other participating organisations were also made to work in various groups so they may benefit from the project's activities and learn to work with others in a manner that was grounded on mutual respect, tolerance, and understanding.
Environments
All of the project's activities were quite practical, and encompassed various aspects of everyday life such as sports, music, science, languages, literature, and art. Students and teachers both spent a substantial amount of time outside of the school environment in order to fulfil the tasks assigned to them, such as to shoot videos at stations, or learn about the history of Jewish migration to London. Additionally, they watched short films that elaborated on the issues currently facing society. During their time in Italy, students participated in a number of activities organised by an organisation that assisted asylum seekers integrate into mainstream society, with said asylum seekers also involved in many of the school's activities, such as the organising of meetings and debates – both of which were activities that were repeated during the transnational meeting in Italy. By the end of the project, many participants had formed close connections with each other, with organising members suggesting an annual repetition of the project's activities so as to facilitate future cooperation among project partners.
Teachers
Throughout the project's implementation, teachers from various fields checked on students' knowledge base and motivation levels in relation to the project's topic and activities. Furthermore, as teachers were requested to review the project, they provided feedback on the undertaking's cultural, technological, and teacher-training aspects, as well as a summary of their experiences. During the project, teachers from participating schools were given ample opportunities to compare their respective teaching approaches and curricula, their various approaches to teaching students with learning difficulties and those who are highly talented, as well as other considerations such as school safety practices and e-safety; teachers also discussed the support provided by their respective governments for teachers and schools of each participating country. As a result of their participation in the project, teachers created a number of teaching aids in Czech, Italian, and English covering various subjects, with said aids aimed at assisting students with learning difficulties, or those who spoke a first language that differed from the official language of a given school.
Impact
By the project's completion, participants were better able to accept various differences (ethnic, religious, physical, mental) and become individuals who were more tolerant, cooperative, and supportive. The project's activities fostered team spirit among participants, and gave them the opportunity to feel a sense of belonging to the communities within which they were located. Furthermore, implemented activities helped participants understand the importance of cooperation, support, and teamwork. Participants also developed lifelong IT skills as they shot videos and prepared various presentations. Activities that involved refugees and minorities allowed participants to understand and familiarise themselves with other cultures, traditions, and practices, with both students and teachers having developed elementary communication skills in various foreign languages. As a result of the project's collaborative approach, students, teachers, and parents were better able to develop a common European identity.
Reference

2016-1-CZ01-KA219-023855

Project locations
Project category

Secondary education

Project year

2021
Stakeholders
Participants
Istituto Comprensivo "Melanzio-Parini"
Address
Sir John Cass and Red Coat Church of England School
Address