Topic(s) addressed
Sustainability 

Learning together 

Biodiversity    

Environment 

21st-century skills
Target groups
Secondary education teachers 

Secondary school pupils 

Municipalities 

Science and sustainability networks
Methodologies
The consortium actively built STEM learning ecosystems on sustainable landscapes.

In each country, the learning ecosystem/hub consisted of a university, two secondary schools and other providers of science education and/or science communication. 

EUSEA - an international knowledge-sharing platform and accelerator of innovation in public engagement was included.

The learning ecosystems used recognized Inquiry-Based Science Education (IBSE) techniques, guaranteeing meaningful teaching materials, freedom of choice for learners, supervision and coaching. 

The IBSE approach provided the pupils with an insight into the process of Responsible Research and Innovation.
Environments
The online modules included offline and outside classroom activities to

combine both formal and informal learning. 

Materials on academic skills to support both pupils and teachers were included in these modules.

Caretakers, students and regional stakeholders (without differentiation) created the target groups for further impact. 

Among the regional stakeholders were nature conservation organisations, local authorities and providers of science education and/or communication, such as museums and science centres. 

In the three regions (Northern Netherlands, Valencia (Spain) and Cyprus), stakeholders developed initiatives to support the regional STEM learning ecosystem. 
Teachers
The teams of scientists, teachers and providers of science education and communication in the three countries contributed to the development of the different intellectual outputs. After the development of the modules, the teachers of the secondary schools tested and evaluated these modules in the classroom. 

They were coached by the local experts in formal education.
Impact
With the SUSTAIN project, the consortium sparked dialogue on sustainable landscapes between secondary schools, universities and other educational providers to articulate a sense of urgency for regional sustainable development goals.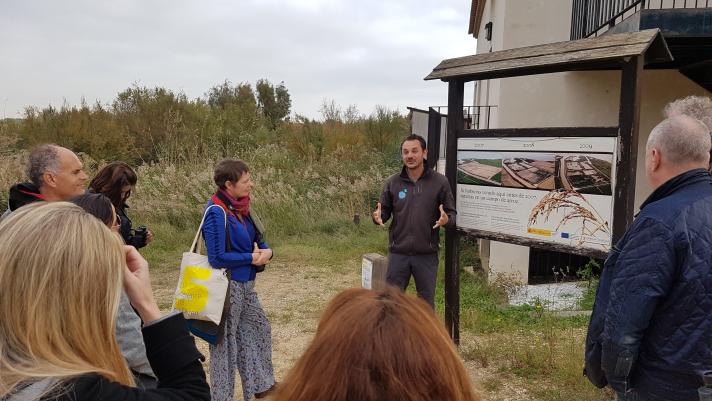 Reference

2017-1-NL01-KA201-035284

Project locations
Project category

Secondary education

Project year

2022
Stakeholders
Coordinators
Rijksuniversiteit Groningen
Address
EUSEA-wuropaische Gesellschaft fur Wissenschaftsveranstaltungen
Address
Forum Private Greek School
Address
EDEX- Educational Excellence  Corporation Ltd.
Address
The Heritge Private School
Address
Piter Jelles Leeuwander Lyceum
Address
Provincie Fryslan
Address
Institut Educacio Secundaria El Saler
Address
Universitat De Valencia
Address
Universitat Politecnica De Valencia
Address
Centro Integrado Publico de Formacion Profesional Misericordia
Address