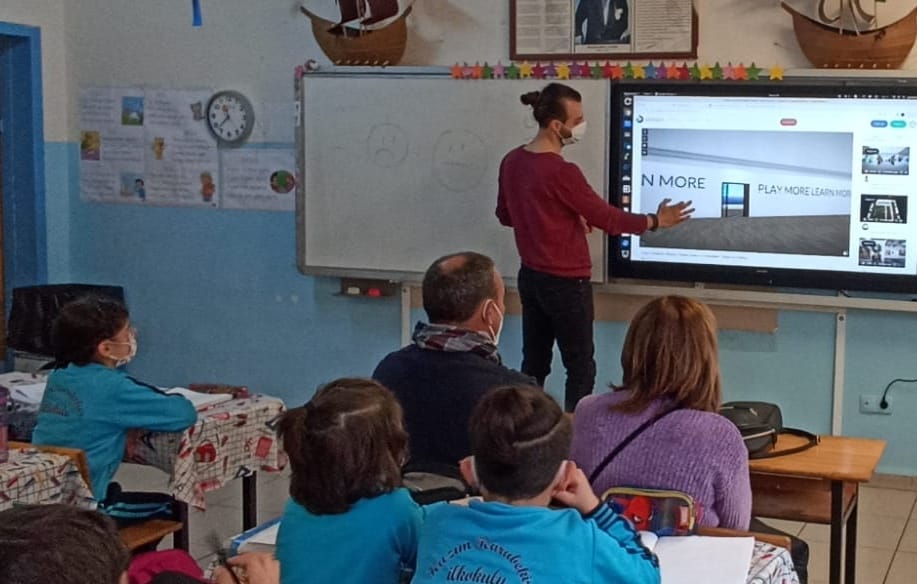 Topic(s) addressed
The training programme used for the project focused on new innovative curricula and educational methods, as well as development of training courses. It revolved around subjects of ICT, new technologies and digital competences.
Target group(s)
The main target groups of the project consisted of kindergarten through 1st to 4th-grade students, ranging in age from 5 to 10 years old.
Methodologies
The project utilised technology-based methods, integrating educational digital games across the primary school curriculum. This fostered the development of digital competencies among teachers and students. QR codes were used for homework assignments, and strategy games were shared via QR codes as well. The lessons emphasised collaborative work and problem-solving through game-based learning, creating dynamic and lasting learning environments that drove digital transformation in our classrooms.
Innovation environment
The technology was effectively integrated into learning spaces by enriching educational environments. Through a comprehensive web search, we curated educational digital games suitable for the primary school curriculum and organised them into QR codes by subject, providing access to all our colleagues. A variety of devices were used, including mobile devices, smartboards, tablets, and computers, to enable the use of these educational digital games. This approach transformed the classrooms into technology-based learning spaces.
Teachers' role
Within the scope of the project, eight teachers at the institution specialised in this field through game-based learning and gamification training given by the ITC International course provider in Prague. These teachers played a pivotal role in disseminating their knowledge within the school, ensuring that all our teachers benefited from their experiences. Consequently, the school's teaching staff gained the requisite expertise in designing effective learning environments.
Impact and output
The innovative teaching methods employed by the project, transformed classrooms into high-quality, engaging spaces. Teachers' competencies in creating game-based and technology-driven learning environments increased significantly. They improved in making education enjoyable for children, resulting in a substantial academic boost to 90%. We also promoted inclusive education, providing students without devices the chance to play educational computer games in classrooms. Parents actively supported the adoption of technology, and students played an active role in the game-based learning process, even during homework.
Reference

2019-1-TR01-KA101-069824

Project locations
Project category

Primary education

Project year

2023
Stakeholders
Coordinators
Kazim Karabekir ilkokulu
Address
Participants
Course Provider: ITC International Prague
Address