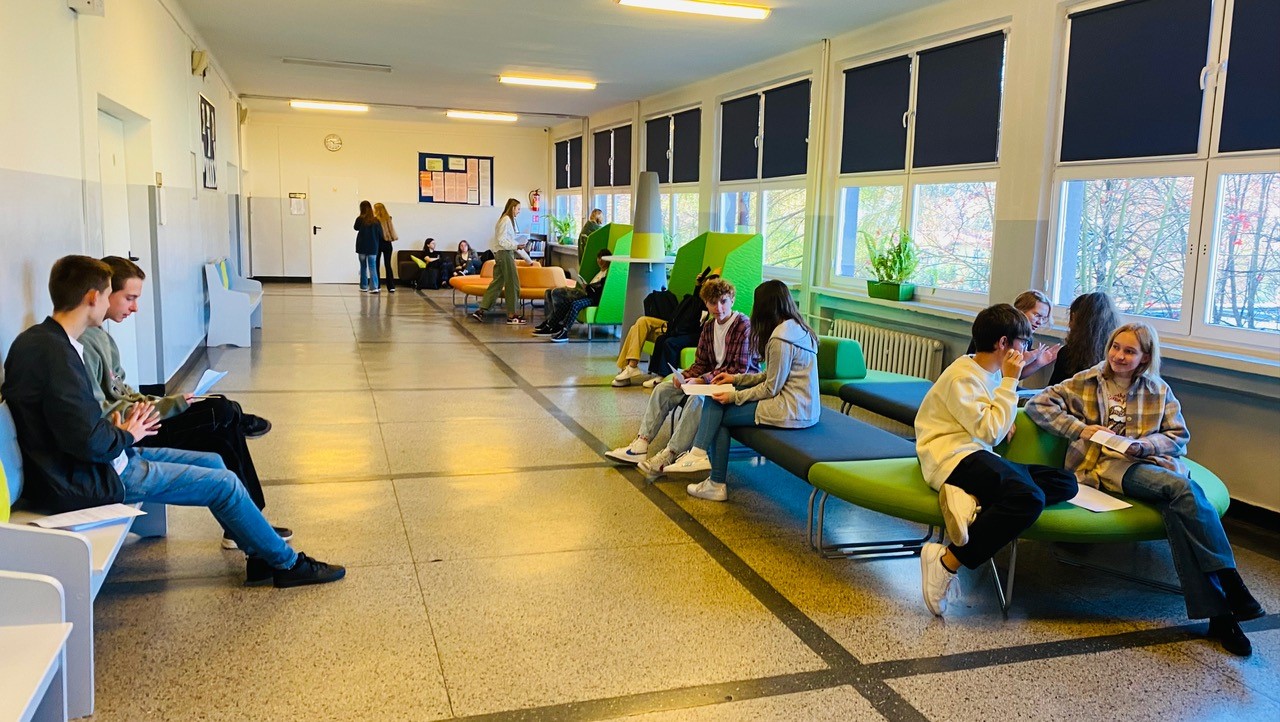 Topic(s) addressed
The topics of the project encompassed intercultural and intergenerational education and lifelong learning, teaching and learning techniques and finally, new approaches and methods of learning and teaching.
Target group(s)
The project involved general secondary school students aged 14-19 as well as teachers in all subjects and school management.
Methodologies
Students actively participated in their learning through innovative assessments and a methodology emphasizing autonomy and creativity. This approach encouraged open tasks, positive responses to mistakes, and self-correction. They developed key competencies and 21st-century skills through various teaching methods and creative use of digital tools, including international collaboration in the eTwinning platform and use of Google tools.
Innovation environment
We equipped classrooms with movable tables for flexible work arrangements and transformed spaces as needed. We utilized corridors and outdoor areas for varied learning experiences, including walking and talking, cooperative outdoor learning, and fresh air learning.
Additionally, we completed the "Building a School Digital Strategy with the SELFIE Tool" online course at eTwinning's Teacher Academy. We embraced a "Bring your device" approach and effectively utilized Google Classroom and educational apps.
Teachers' role
Teachers now apply gained knowledge in their classrooms to make learning easier and more enjoyable for students, all while eliminating the need for homework. Their primary aim is to cultivate a love for learning and school, achieved through meticulous lesson planning, offering constructive feedback instead of grades, and embracing mistakes as valuable learning opportunities. Building strong teacher-student relationships is crucial, as neuroscientists emphasize their pivotal role in the learning process. Additionally, a Professional Learning Community has been established to support teachers in their transition to becoming guides who learn alongside their students.
Impact and output
Between 2020 and 2022, our students' final exam results improved significantly.
In addition to academic progress, students developed important life skills such as time management, creativity, effective learning strategies, goal setting, cooperation, and public speaking in foreign languages. Qualities like curiosity and honesty were also nurtured.
Our teachers also made significant progress improving their professional skills.
Reference

2020-1-PL01-KA101-080645

Project locations
Project category

Secondary education

Project year

2023
Stakeholders
Coordinators
IX Liceum Ogólnokształcące im. Wisławy Szymborskiej w Sosnowcu
Address
Participants
Lycee Polyvalent Valentine Labbe
Address
Liceo delle Scienze Umane e Linguistico "Danilo Dolci"
Address