Topic(s) addressed
This project aimed at creating an awareness of common values of a united Europe among our pupils. At their young age (6-10 years) pupils have already taken their first steps towards the acquisition of intercultural competences. Furthermore, they were able to present their living environments, lifestyles, and languages through eTwinning TwinSpace to the children of the Polish partner school while comparing their surroundings with their own. During the project, the children enhanced their knowledge of their own city as well as that of the partner city; in addition, their key competences of reading and writing were trained. Media and ICT competences (handling tablets, cameras, video conferencing, eTwinning-tools, blogs, computer programmes and apps such as Word, PowerPoint, Book Creator, etc.) were also established or broadened. As part of differentiated teaching, the disabled children from both schools were smoothly involved in the project's activities. As many topics were creative, it was easy to give each child a task within the scope of his or her possibility. When learning the Polish or English language, refugee children were at no disadvantage compared to German children because like them, they began from scratch. A child with integration status also participated in our exchanges, with the child's integration assistant and family having been involved as well.
Target groups
The "Gutenberg-Schule Dierdorf"primary school is attended by about 270 children (age 6 to 10 years); a multicultural school community with a high proportion of children from resettlement families, there are also a number of Polish, Turkish, and Syrian children at the school. Gutenberg-Schule Dierdorf is a priority school for children with increased need for support, with some children also experiencing linguistic, physical, and/or cognitive impairment. Almost all children and classes were involved in the project's activities at school. The Polish Henryk Jordan School is attended by pupils from the first to the ninth grade and also integrates children with special needs. Pupils from the lower grades implemented the project activities, with both schools located in rural areas.
Methodologies
Pupils were actively involved in shaping the project from the very beginning, with ideas collected on what could be presented regarding one's own city to the children of the partner school. Also, interdisciplinary project-oriented work was carried out and the children were supported with a holistic approach. The challenge of having to overcome linguistic and spatial barriers caused some initial difficulties, but it also released a variety of creative processes. Partner classes were stimulated repeatedly to begin new small and large projects (e.g. "We introduce ourselves to you in a small video clip." / "We show you how much we enjoy our swimming classes." / "The games we play in our schoolyard."). Both schools maintained constant contact during the project's activities. The pupils and teachers celebrated St. Nicholas Day together in a videoconference, and said goodbye to each other before each holiday; the German pupils got to know the Polish national holiday and taught the Polish pupils how to celebrate St. Martin's Day. Such celebrations in particular provided an intense, emotional, and lively insight into the values and culture of the partner country.
Environments
Dierdorf and Krotoszyn are both municipal partner cities, and the school's partnerships revitalised both cities' partnership and provided new impetus. To support this potential, we disseminated all project results as broadly as possible. The parents were involved through family exchanges and have maintained close contacts with their partner families ever since. Video calls and simultaneous translation apps are increasingly being used to keep these connections alive, and, given that children have learnt how to create video clips at school, this is now also part of their private communication.
Teachers
As part of the project, teachers expanded their intercultural knowledge and multimedia skills. New devices and apps were purchased, with methods tried out, exchanged, and further developed by colleagues during the project's peer learning process (e.g. working with BookCreator, creating and editing short video clips, etc.). The new skills gained during the project work have had a major influence on teaching methods and practices. This is particularly valuable during the ongoing pandemic and its associated distance learning processes. As all teachers were involved in the project, it triggered a boost in the use of new innovative and creative teaching practices.
Impact
A wide range of child-friendly ideas was developed on how to interact and learn effectively despite spatial, time, and linguistic challenges, which are now being used and expanded beyond the project in everyday teaching. The children have looked at their city from the eyes of their partner children, and have also tried to draw themselves closer to it through various media channels. Children learnt how to conquer new spaces in the broadest sense (linguistically, spatially, via media, etc.), how to overcome difficulties, and how to bravely accept challenges. The increase in learning content and social-emotional awareness, will benefit children during the pandemic, and more importantly, throughout their lives.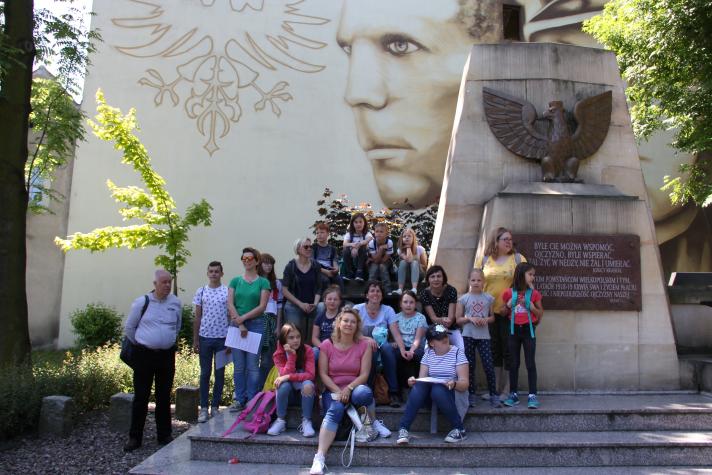 Reference

2018-1-DE03-KA229-047298

Project locations
Project category

Primary education

Project year

2021
Stakeholders
Participants
Zespół Szkół Nr 1 Z Oddziałami Integracyjnymi im, H. Jordana