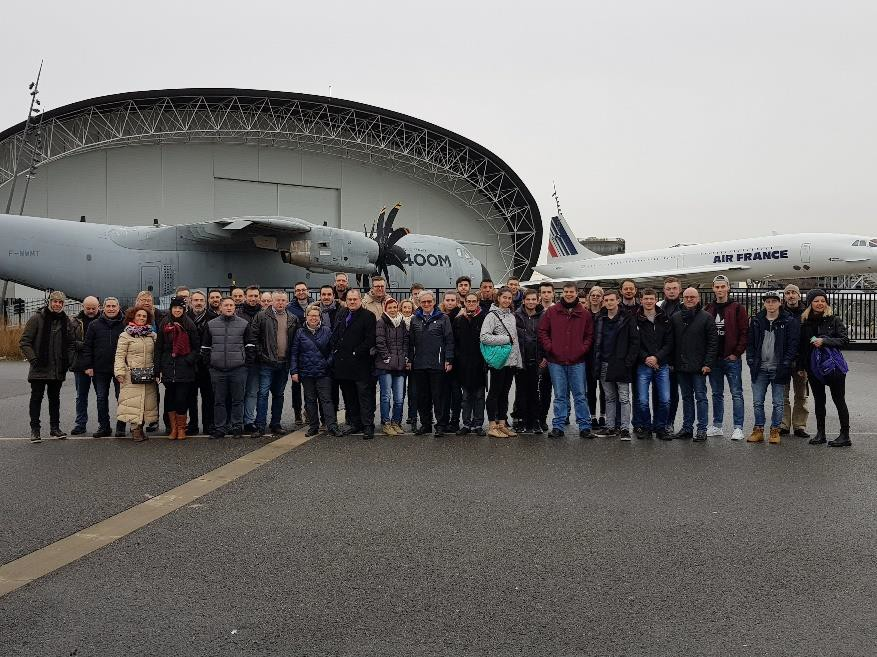 Topic(s) addressed
The ICAROS project aimed to enhance educational practices in order to better motivate students to improved study-goal achievements, while preventing school dropout due to low motivation levels. This was achieved through thematic learning using an entrepreneurial learning approach and student-led knowledge development, experimentation and real-world problem solving. Topics addressed in the project are entrepreneurial learning - entrepreneurship education; ICT - new technologies - digital competences; and, early school leaving/combating failure in education – all of which are linked to the Teaching Award's annual priority, with a focus on thematic learning in combination with the extensive use of high technology and ICT.
Target groups
The partnership composed of both teachers and students from 5 European upper secondary/VET schools, with students from Sweden, Spain, Germany, Greece, and France between the ages of 15-20. The short-term group exchanges saw a total of 20 students (4 from each partner school including the host organisation), with students selected on their manifested ability to fulfil their required roles (student team coordinator, drone operator, systems specialist, and information specialist) in the assembling of a second-generation drone.
Methodologies
The project, with its focus on design, development, testing, and operation of small radio-controlled "Drones," used innovative teaching and learning approaches, coupled with the use of modern technology, learners' imagination, and their active role in the learning process, in addition to the use of multidisciplinary innovative tools/methods in demonstrating the real-world applicability of STEM- and other related, and unrelated, school subjects. Educational concepts such as the "Flipped Classroom" model, the development of web-based lesson/session modules, instructional video clips, and easy modular tasks were cooperatively developed, shared, and put to use by participating schools. Thus, teachers and students from different European contexts gained access to the same concepts and utilised the same educational/methodological gains. The learners' active role in the work process involved a substantial amount of hardware and software design, followed by functional testing in real-world conditions. Constant real-world problem solving inside and outside the classroom environment was the norm, and this greatly stimulated initiative and independent knowledge development. Other subjects such as CAD/CAM, Logistics, Web- and App-design, Electronics/Energy Systems, and Aviation Technology were fully integrated. Non-technical subjects such as Business Economics and Administration, History, Social Sciences, Law, Ecology/Sustainable Development, Ethics, Art/Design, and English were also involved. In addition, the drone construction process also expanded to involve other practical workshop-related subjects such as CNC and Industrial Manufacture for limited tasks within the framework of the project.
Environments
Intra-project communication was continuous and intense throughout the project, with partners in constant consultation with each other on pedagogic, technical, organisational, and practical issues. Open communication between partners was greatly aided by transnational project meetings and an efficient communications infrastructure. "The SLACK collaborative software tool" was used multiple times daily throughout the project and offered a digital platform for the interchange of ideas, written documents, and instruction movies between partners. This made it possible to constantly monitor progress in teaching methods, student work, and the overall project. Cross-sectoral cooperation had a significant role in the project, as all partners had their respective expertise in various areas and brought essential knowledge and experience to the project, thus contributing to the development of thematic learning. The close cooperation between educators and institutions from various educational systems enhanced the development of pedagogic methods/best practice in a decisive manner.
Teachers
The project was created to promote transnational teacher professional development through the sharing of methodology, best practices, collaborative approaches, and results. The teachers involved in the project influenced the learning process through "teacher teams" that were formed around students, given that the thematic learning process followed the development of the "Drones." Participating teachers had the opportunity to develop innovative, participatory, engaging, and new educational concepts and implement them into their schools. Teachers enhanced their competency regarding thematic learning, as well as the possibility of integrating not only STEM-subjects, but also other related subjects under a common theme. They also learnt alternative ways of applying new technology and innovatively using ICT, thus becoming better able to support the learning process. Lastly, they developed confidence in organising complex tasks and assignments in the classroom environment, while simultaneously cooperating with other teachers locally or transnationally.
Impact
The project's impact on participants and participating organisations was immense. Participating teachers had the opportunity to develop innovative, participatory, engaging, and new educational concepts and also implement them in their schools. Thematic learning (with its associated hands-on applications), and the combination of theory with practical high-tech activities, was firmly embedded among participating schools. The projects' results are expected to contribute towards an increased interest in STEM-subjects within participating European regions, given their possible practical applications in a number of contexts that adds to a sense of meaning in the study of technically oriented subjects.
Reference

2016-1-SE01-KA219-022131

Project locations
Project category

Secondary education

Project year

2021
Stakeholders
Participants
Ellinogermaniki Agogi
Address
I.E.S. Mar de Alborán
Address
Lycée Saint-Exupéry
Address
Paul-Julius-von-Reuter Schule
Address