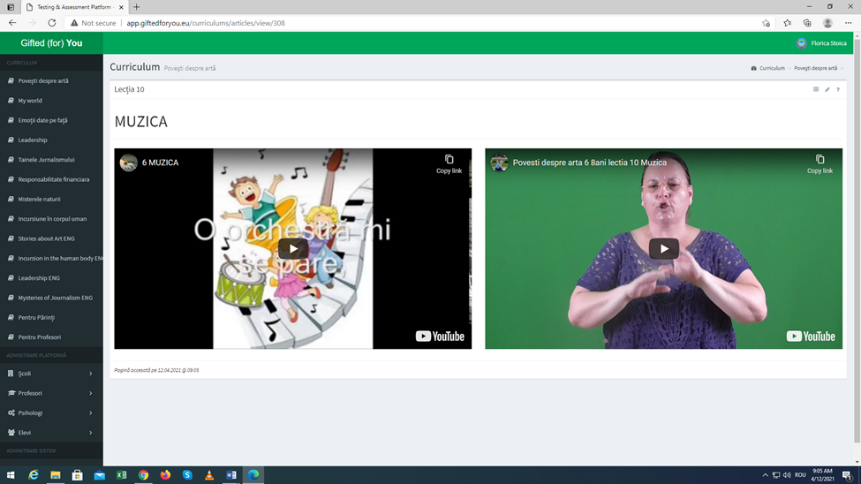 Topic(s) addressed
The project aimed to provide equal opportunities for both children with special educational needs and those facing high social risks in the interest of facilitating their social and academic integration. To this end, the project enabled such children to capitalise on their respective resources through the use of an evaluation programme, followed by several specialised training sessions (including in the use of information technology). The project's objectives were to develop and implement a curriculum for "gifted children" with high potential (particularly those with special educational needs and disabilities), and to develop educational software for children with hearing impairment, blindness, Asperger syndrome, and for those who score highly on tests for "gifted children."
Target groups
The project's direct beneficiaries were students with high potential (with/without hearing and/or vision deficiencies, or Asperger syndrome), with its indirect beneficiaries having been teachers who were trained in the Psychopedagogy of Exceptionality, as well as teachers from Romania and other participating countries who could add value to the products that had been developed on the www.giftedforyou.eu platform such as guidebooks, course supports, and online lessons. Parents of high-potential children (with/without hearing and/or vision deficiencies, or Asperger syndrome) were the next target group, followed by members of the local community.
Methodologies
Mindful of the advantages offered by digital education, the school launched www.giftedforyou.eu as an online learning platform for children with or without disabilities. The development of what was then an innovative platform soon became a commonplace solution that addressed the need for digital education brought about by the pandemic. The entire system, which has since adapted and evolved, has proven to be more than just a tool for teachers, parents, and students – it is now a starting point from which new useful tools may be developed against the background of a changing education system. When the platform was first conceptualised in 2014, the innovative character of the www.giftedforyou.eu e-learning platform was meant to function as a virtual space where children with or without disabilities could be tested, and where they may access interactive tools and interdisciplinary learning according to their intelligence type and areas of interest (with proposed educational modules having been selected and adapted to meet special needs). A year after its implementation, the platform's usefulness (and that of its materials) with regard to online education was clearly evident, and feedback on its effectiveness has further driven its demand. That being said, online education has proven to be particularly challenging for children who are hearing-impaired, or who are affected by other types of physical disabilities. In the early stages of the online learning period, a number of support lessons were engaged in the development of the most appropriate methods and materials for children in the 3-5, 6-8, and 9-12 age groups, such as "Stories about Art," "My World," "Emotions Revealed," "Mysteries of Nature," and "Journey into the Human Body." Moreover, all materials were developed using a multidisciplinary approach aimed at developing key competences; for example in Lesson 1, titled 'Lines and Shapes' (from 'Stories about Art'), children in the 3-5 age group learnt about types of lines and geometrical figures through a story that not only provided visual and audio support, but which also made extensive use of expressive Sign Language: http://app.giftedforyou.eu/curriculums/articles/view/83. In addition to creative development, lessons were designed so as to facilitate student communication in their mother tongue, while encouraging the development of mathematical and digital competencies, which allowed for the application of such materials in Math classes, Arts or Assistive Information Technologies, Counselling, and Complex Integrated Educational Therapy. Moreover, as materials were developed to be teaching aids for children between the ages of 3-5, it was broadly used among kindergarten groups as well as in primary and middle school, contingent on their disabilities. All lessons, regardless if they were on colours and textures, famous painters, the human body, or natural wonders, were developed in the form of stories (complete with sign language and audio support) that allowed children with hearing or visual impairments to access the information being provided. Along with these lessons, both children and teachers were able to download worksheets from the platform, materials that could be used in evaluations, as well as exercises that were designed as online creativity tests.
 Another example was when the school organised the 'Școala Altfel' (extracurricular activities) programme, where materials from the 'Stories about Art' module gave hearing-impaired children in the 8-12 age group the opportunity to virtually visit world museums and other cultural institutions.  They were introduced to folk art and crafts, while allowing them to assess their acquired knowledge (with the help of a Sign Language guide).
Since its implementation, parents, as well as teachers from various schools in Bucharest (Special Middle School No 2, Special Middle School for the Vision-Impaired) and other parts of the country, have thanked the school for its provision of educational resources on the platform, which has proved useful not only throughout the school year, but also during the holidays.
Environments
Following the school's use of the project's resources during the pandemic in both online and hybrid classes, it became clear that such resources should be made a priority _ particularly with regard to special education. The platform was designed in such a way so as to equip each module with course-supporting materials and demonstrative lessons, with teachers using said resource materials and adapting their educational approach to students' specific needs. Moreover, the importance of adequate resources that were capable of capturing the unique developments of children with special needs was also recognised. A Facebook page dedicated to online learning methods was developed and promoted by the School Inspectorate of the City of Bucharest.  It introduces interested teachers to the e-learning platform that was developed in the 'Gifted for You' project, as well as materials on "Mathematics, Lines and Geometrical Figures" (by Cristina Gârniceanu and Florica Stoica), completed with sign language interpretation. Various guidebooks on hearing, visual disabilities and Asperger syndrome were prepared and uploaded by the School Inspectorate of the City of Bucharest on the Resurse Educationale Deschise (RED) / 'Open Educational Resources' platform for both parents and teachers. They included video materials for primary education that come with audio and sign language support services that can be accessed by mainstream teachers.  Feedback on the project revealed that the modules' underlying principles as well as those of designed activities focused on the balance between creativity and skills development, the attainment of proposed goals, and adaptation to various learning styles. Adaptation of learning content to meet the needs of children with hearing and/or vision impairment was a natural and necessary innovative development of the school's educational process, given that children with the aforementioned impairments would very likely have special educational needs. To this end, all modules and proposed activities come with audio as well as video and sign language support for children who are vision- and/or hearing-impaired. Furthermore, these materials were also used by teachers in integrated mainstream classrooms to teach students with disabilities. Additionally, guidebooks, along with lessons, and creativity and evaluation tests, on hearing and/or vision deficiencies, and Asperger syndrome have proven to be valuable resources in the adaptation of content for online learning. That being said, the school has had to continuously adapt the educational process it implements so as to ensure that they remain beneficial to children who access materials from the project's platform, and to allow them to utilise such materials both online and offline.  
Teachers
The "Gifted for You" project was founded to meet the requirements of children with special needs and a desire to innovate learning processes, with the project's lessons, worksheets, course supports, and proposed curriculum functioning as valuable resources. Throughout the project, teachers have had to utilise various educational needs towards securing students' attention during the learning process, despite a broad lack of supporting materials for special education, and the fact that no textbooks or teaching auxiliaries were available as the project's syllabus had yet to be approved. Against this background, teachers have had to become agents of change during the "Gifted for You" project by supplying the various support materials needed to sustain this change. The platform's demonstrative lessons not only met the needs of children, but also those of teachers in their desire to assist special needs students in acquiring key competences necessary to their integration, personal advancement, and future employment. Given that each child is unique, with their own potentials and needs, they were encouraged to download materials from the platform and to use them either offline or asynchronously to match their learning needs. The pandemic has also further cemented our awareness on the need for cooperation when devising new solutions, with the concept of transdisciplinary learning now being used by teachers from various backgrounds. An example of this is the use of material such as 'Lines. Points' (drawn from the "Stories about Art" module) across several disciplines such as Math and the Sciences, Language and Communication, Man and Society, Arts, Technologies, Therapies, Counselling, and Career Guidance.
Impact
The project's pilot lessons, course supports, and its psychological and pedagogical recommendations (all of which were uploaded on the www.giftedforyou.eu platform) were utilised by students, teachers, and parents during the pandemic's online learning sessions, with the project having provided teachers and students with new teaching methods, tools, and learning materials. Students benefitted from the project's attractive and interactive modern lessons, and were able to access its content at school, during brief face-to-face learning sessions, and at home via their computers, tablets, or smartphones. Pilot lessons in particular were engaged throughout the project's duration in national curriculum classes, as well as during extracurricular activities in order to make the learning experience more appealing to students. Moreover, they were also used during the evaluation process, with lessons having been structured according to age category and each student's development level. For example, the project's material was used in primary school classes for students with impaired hearing, given that said material focuses on visual support; they were also used among students with severe and profound disabilities, for which materials that had been developed for the 3-5 age group were used. Another example was the use of materials from the "Fantasy in the World of Colours," "Emotions Revealed," and "Mysteries of Nature" modules, which was used for Grades 1 to 4 (contingent on the student's individual development stage and characteristics). The development of the project's material with sign language support has been of enormous value to both students and teachers as it allows them to implement online education approaches synchronously, while allowing students to access material asynchronously outside of formal school hours. As a pilot project, "Gifted for You" provided work tools, as well as new models for learning; however, despite the need for quality education that is adapted to the requirements of students with special needs, only a small number of support materials were provided by the project given its aim of addressing a broad age group and a fairly large number of curricular areas. Over the course of future projects, the school aims to focus on specific levels of child development (such as preschool or primary school) in the interest of producing a larger amount of useful resources.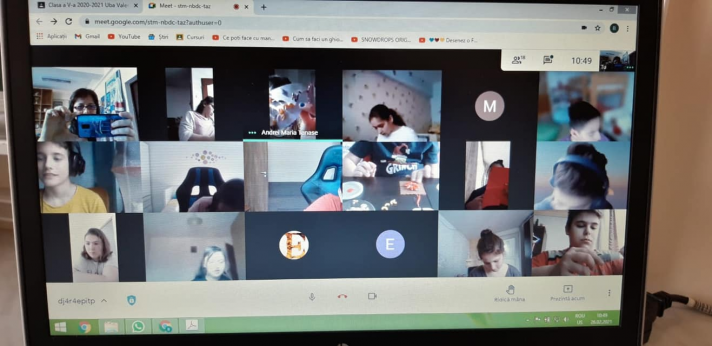 Reference

2014-1-RO01-KA201-002957

Project locations
Project category

Early childhood education and care

Project year

2021
Stakeholders
Participants
Association for Education and Science Kleine Schule
Address
Rodax Management SRL
Address
Specjalny Ośrodek Szkolno-Wychowawczy nr 2
Address
Sredno specialno uchilishte za deca s uvreden sluh "Prof. d-r St. Belinov", Plovdiv
Address
Plovdiv University "Paisii Hilendarski"
Address