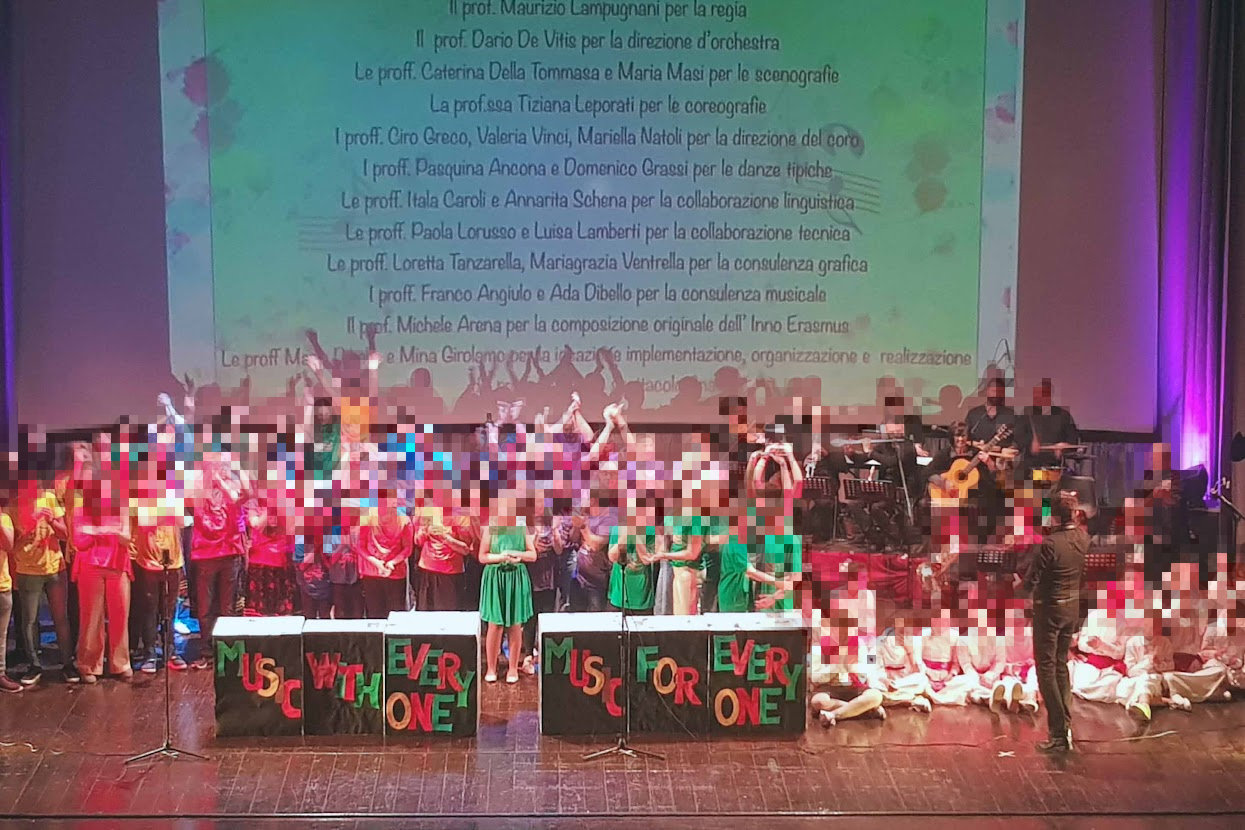 Topic(s) addressed
Promoting inclusion through the universal language of music

Petting our students experience music in an active way 

Creativity and self-expression according to students' abilities
Target groups
Students from primary to high schools with social and cultural disadvantages and with disabilities
Methodologies
Multidisciplinary and cross-disciplinary approaches– the issue of inclusion analysed by focusing on music and its multiple sides 

The activities designed and implemented  to gain knowledge, improve skills, and form (or even change) attitudes to diversity and inclusion

Creating a fairy tale as an important means to learn about cultural and social diversity through cooperative activities.

Honing positive skills in the target group through a Maieutic method 

Generating students' creativity, emotions, feelings and ideas through Music Therapy
Environments
Making music accessible for the many thanks to the activities carried out by 8 institutions

Innovative cooperation between the music conservatory and music associations for disabled people involving students from various backgrounds

Combating the prejudice of the "gifted" in learning an instrument

giving the disabled a chance to learn and experience music

The final show gathering on the stage people with various disabilities- blind and visually impaired, with Down's Syndrome, the quadriplegic demonstrating the true inclusion
Teachers
All teachers shared the common vision of opening new opportunities for all students and fighting prejudices in their schools.

Professional musicians taught music composition along with curricular subjects.

Disabled musicians taught to build simple musical instruments adjusted to their physical disabilities.

Teachers cooperated in activities involving the whole school community.
Impact
Teachers evolved on professional and personal levels.

Teachers reinforced their skills in the field of inclusive education.

The project improved the quality and efficiency of education in schools through innovative 

teaching practices.

It increased students' competencies in music and Braille music.

Vulnerable students improved their chances to continue their education, gain a profession and integrate into society.

The involvement of AccordiAbili association and Portuguese Conservatory emphasised the importance of an alternative way of teaching music.
Reference

2017-1-IT02-KA201-036699

Project locations
Project category

Secondary education

Project year

2022
Stakeholders
Coordinators
Scuola Secondaria Statale di Primo Grado " G. Bianco- G. Pascoli"
Address
Etablissement Régional d'Enseignement Adapté aux Déficients Visuels Cité scolaire René Pellet
Address
Stowarzyszenie Pozytywnych Zmian
Address
• Escola Artística do Conservatório de Música • Calouste Gulbenkian de Braga
Address
Agrupamento de Escolas de Maximinos
Address
Denbigh Primary School
Address