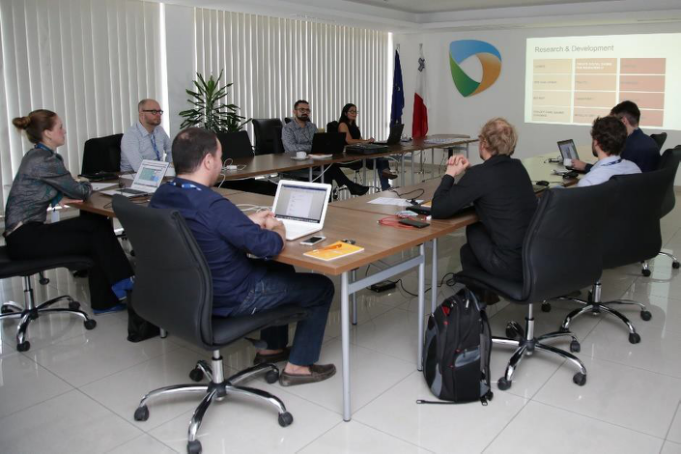 Topic(s) addressed
The main project objective was to develop a Game Creator Tool (GCT) together with 2 main games as pilot applications to strengthen the digital skills and competences of students. The consortium aimed to provide educators with a platform that was easy to use in classrooms; the platform was developed with the involvement of educators and students using an iterative game design approach that provided the consortium with valuable feedback. This Strategic Partnership targeted efforts that challenge traditional pedagogies and which encouraged the use of innovative game-based learning (GBL) methodologies for learning purposes.
Target groups
The target audience for this project was educators and students, consisting of 79 Maltese educators, 16 Luxembourgish educators, 69 Austrian educators, and 86 Luxembourgish students.
Methodologies
The project achieved its results in that the Game Creator Tool was developed as intended for both educators and students, with the tool having been tested on both audiences and their feedback collected accordingly. Additionally, evaluation exercises including a 'needs' analysis were carried out during the project's life cycle. Qualitative semi-structured interviews were carried out with students and teachers targeting both the Game Creator Tool as well as pilot games in order to understand the tool's suitability and usability. In addition to this, online questionnaires were also carried out with target audiences, with the data collected, analysed, and documented in a report.
Environments
The Game Creator Tool bridged the gap between the complex world of game programming and designing using an open and easy-to-use tool for game authoring. The project outputs were meant to shed light on the need for further research into the positive potential of active game design for learning purposes, enhancing the digital competences of students with a particular focus on media literacy, and STEM education via GBL learning. The Game Creator Tool enabled educators to diversity their pedagogies and students to learn using a tool that is creative, modern, and attractive – all of which motivated students' appetite to learn.
Teachers
This Strategic Partnership targeted efforts that challenge traditional pedagogies and encouraged the use of innovative game-based learning (GBL) methodologies for learning purposes. The Game Creator Tool allowed teachers and students to work on game projects and dive deeper into the subjects of fake news and STEM, which allowed both teachers and students to create their own games in relation to said themes.
Impact
Through the development of the Game Creator Tool and pilot games, many students' media literacy skills and digital competences were enhanced. Enhancing the skills of hundreds of students provided exponential benefits, namely the increased possibility that they continue with their education, attain tertiary qualification, and improve their employment prospects. At the same time, the project has benefited many educators and boosted their digital skills while enhancing their professional skill portfolios. When used effectively, the GCT diversifies educators' pedagogies and so leaves a ripple effect on their students. All in all, the hundreds of participants, both direct and indirect, were able to enjoy a more positive and fulfilling teaching and learning experience. The Game Creator Tool consists of a game editor that includes a visual programming interface, allowing teachers to design digital games for the subjects they teach without the need for coding knowledge; students also used the Game Creator Tool which empowered them in creating their own content. Through this tool, the consortium managed to bridge the world of programming with the availability of an easy-to-use tool for game authoring for teachers and students alike.
Reference

2017-1-MT01-KA201-026955

Project locations
Project category

Secondary education

Project year

2021
Stakeholders
Participants
Research and Innovation Management GMBH
Address
Science Centre (Department of Curriculum Management)
Address
Université du Luxembourg
Address
Universitat für Weiterbildung Krems
Address