Topic(s) addressed
Career guidance/youth unemployment

Creativity and culture

Quality and Relevance of Higher Education in Partner Countries
Target groups
50 learners - painting/sculptural/graphic design 

10 teachers- painting/sculpture
Methodologies
Traineeship in art studios under the supervision of professional artists.

Connecting with the local community.

"Artist talks" to present learners' work to the artistic community, professionals and other VET representatives

Job shadowing - the teachers cooperated with the professors at the prestigious Academy of Fine Arts in Verona
Environments
Learners had a chance to work in professional art workshops as artists' assistants.

Teachers trained at a very prestigious academy which enabled them to increase competencies in techniques and styles.

The project included specific learning environments and innovative ways of learning and sharing knowledge through "artist talks" and exhibitions.
Teachers
Teachers had the opportunity to watch the academic professors teach professional painting and sculpture. 

Interviews with professors focused on the methodology of work, curriculum, specifics of working with learners and specifics of techniques. 

They also gained knowledge of current trends in artistic expressions which they presented in their schools. 

Participating in cultural activities e.g. visits to museums, galleries and art studios.
Impact
Learners gained with knowledge and skills that made them more competitive in the labour market or further education.

Teachers gained upgraded their professional skills. 

The schools benefited from internationalisation.

Improving the education system in the country as a spill-over effect. 

The partners had an opportunity for reciprocal cooperation and the expansion of their activities.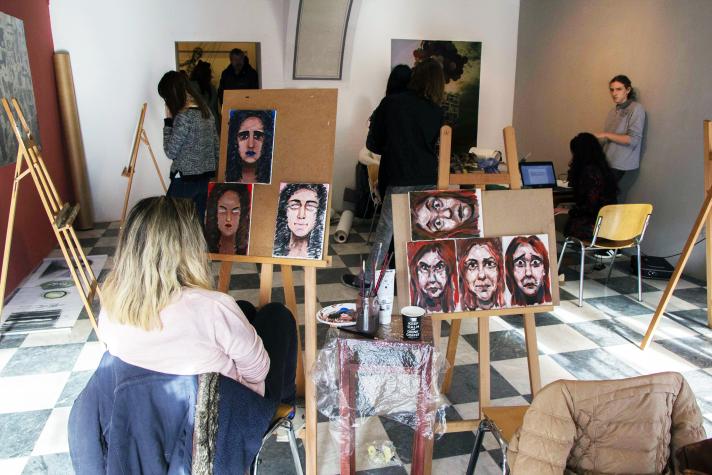 Reference

2017-1-HR01-KA102-035134

Project locations
Project category

VET schools

Project year

2022
Stakeholders
Coordinators
Hrvatsko društvo likovnih umjetnika
Address
Škola primijenjene umjetnosti i dizajna Osijek
Address
Škola primijenjene umjetnosti i dizajna
Address
Škola primijenjenih umjetnosti i dizajna - Pula
Address
Škola likovnih umjetnosti
Address
Škola za primijenjenu umjetnost u Rijeci
Address
NEXT - VEREIN FUER ZEITGENOESSISCHE KUNST
Address
Westdeutscher Künstlerbund e.V.
Address
KULTURNO IZOBRAZEVALNO DRUSTVO KIBLA
Address
Fondazione Accademia di Belle Arti di Verona
Address