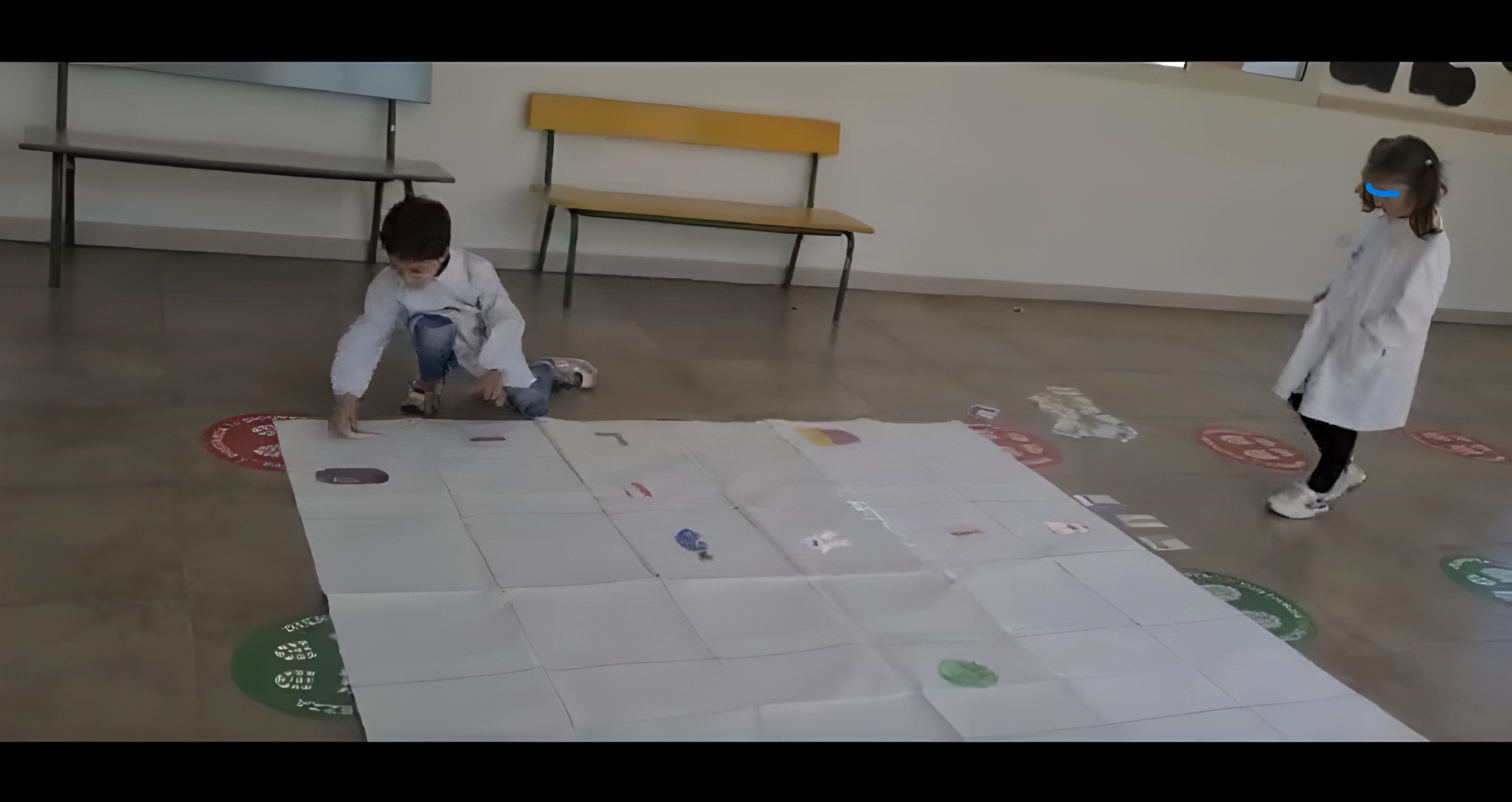 Topic(s) addressed
The project addressed unplugged coding that involved various activities such as creating a flow chart illustrating the steps of making a cake, growing plants, and inventing stories and transforming them into digital narratives. It also included the use of tools like Bee Bots for programming purposes.
Target group(s)
We involved pupils from age of 4 to 11 but the activities were also created for younger children.
Methodologies
We employed the IBSE methodology, emphasizing hands-on learning. Children conducted investigations, fostering knowledge through action, increasing interest and skill development. In our nursery classes (ages 3-6), older students acted as tutors, promoting peer-to-peer education and cooperation. This cascade effect benefited both children and teachers, ensuring a strong foundation of key skills for primary school. E-twinning facilitated experience sharing among the project's six countries.
Innovation environment
Our nursery schools had mobile tables, gardens, and spacious rooms with dedicated activity corners. Both primary and nursery schools were equipped with digital boards and mobile devices. Notably, the i-Theater allowed children aged 4-6 to transform their drawings into digital stories, fostering relationships and introducing them to new technology in a playful manner.
Teachers' role
Teachers served as coaches, guiding students to discover and interpret phenomena. The exchange of experiences among teachers from the six project countries fostered lasting friendships and allowed us to engage all school teachers. They introduced creative thinking and problem-solving through SCAMPER and Tinkering activities, connecting children's innate imagination with real-world items. Children learned through hands-on experimentation, presented in a playful, challenging format.
Impact and output
The project "Art Creativity Coding - Full Steam Ahead!" sparked curiosity and a drive to explore new methods. Nursery school teachers' dedication ensures our students enter primary school well-prepared, including those with special needs. We invest time in innovative teaching strategies, fostering a culture of creativity in the classroom, inspiring our students to embrace risk, iterate, and persevere. More resources can be found here: Search | Erasmus+ (europa.eu)
Video
Reference

2018-1-IT02-KA229-048188

Project locations
Project category

Early childhood education and care

Project year

2023
Stakeholders
Coordinators
2° Circolo Didattico S. Giovanni Bosco
Address
Participants
Gymnasio Geniseas Xanthis
Address
Liepupes Pamatkolas-Salacgriva
Address
Szkola Podstawowa Nr 7 Z Oddzialami Integracyjnymi Im. Krolowej Jadwigi W Wolominie
Address
Creche E Jardim De Infancia Da Sismaria "O Pinoquio" Leiria
Address
Turgut Reis Ilkokulu Istanbul
Address